News
inflatable castle can be used for kids' birthday

Source: By:wl-inflatable Posted:12-03-2018 Views:
The inflatable bounce house is one of the inflatable toys, actually, the inflatable recreational facilities. You can catch sight of it in the amazement park or in the carnival. Also, it is possible for you to see it in your friends' yard. There are many inflatable toys and cartoons on the inflatable bounce house. What amaze your kids a lot are that the beautiful inflatable cartoons and the exciting inflatable recreational facilities. It is sure that kids' couldn't help themselves playing on it and they will indulge in pleasure without stop.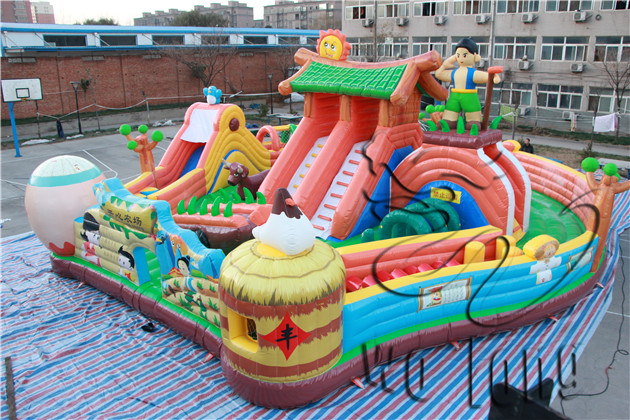 As the parents, you needn't worry that your kids may be injured when they run or jump on the inflatable bounce house. In fact, the inflatable bounce house is full of gas inside and it has the soft surface and that is meant that kids will not be injured in case of that they have fallen on it. An inflatable slide manufacturer is a great way for children to entertain themselves, and then at the local pizza shop or the exercise of either in their own backyard.
Permanently installed in the many parks, carnivals, exhibitions, restaurants, and businesses, but can also be used for temporary, personal, party or special event rental. Despite this dynamic, too large a variety of software, toys, your bounce always supervise children, to ensure that no one will accidentally injured. You may use these various inflatable bounce houses in any sort of celebration; it can be your youngster's birthday celebration, or some organized special occasion that can be done for a big group of guests, giving them a theme park and carnival feel.
Regardless of the occasion, you can be assured that using inflatable bounce houses to help make any get together become alive is definitely a good approach. Simply contact a local, quality inflatable party leasing organization and your youngsters are guaranteed to have a fabulous, fun day! A day that they're likely tremember for several years ahead.