News
how to set up inflatable bouncers

Source: By:wl-inflatable Posted:11-30-2018 Views:
Inflatable bouncers are some of the best things to have during festivals, birthday parties, and holiday gatherings. It is a great way to keep the kids busy and having fun so that the adults can talk. Most people will rent one rather than spending money to buy one of their own.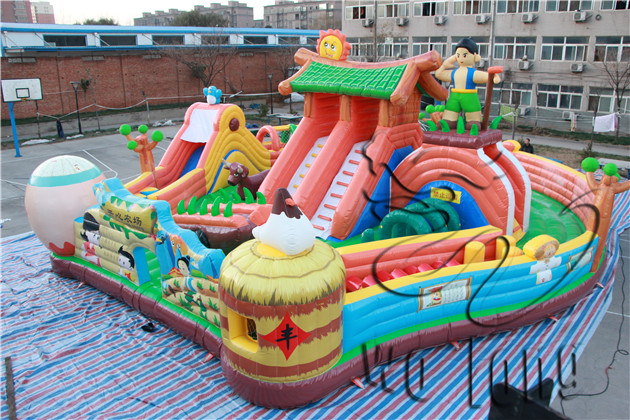 If you do decide to purchase one as an investment and to use constantly during the summer and spring months than you need to know how to set it up. Before you begin you need to purchase ground tarp. The castle should have come with its own blower tubes and blower. Put the ground tarp on the space where you want the castle to be put. The ground should be level and between 100 to 200 feet to the nearest power source.
Place the inflatable roll at the back of the tarp and unroll it to the front. Have one or two people help you with this to make sure that it is not getting snagged on anything and is moving evenly. The back of the inflatable bouncer is the part with two blower tubes.
Connect the blower to one of the blower tubes on the back and secure it using the strap attached to it. Now seal off the second blower tube so that none of the air can be released. This one is used when you are deflating it.
Plug an extension cord into the power outlet and run it to the back part of the castle. Plug the blower in and make sure the air is not escaping as it blows it up. Make sure that there are no power lines or tree branches that it can hit on the way up. As the air enters through the tube the inflatable bouncer will unfold itself.