News
inflatable slide is popular in winter

Source: By:wl-inflatable Posted:11-03-2018 Views:
With the increasing pace of modern urban life accelerated, people living and working in one way or another will be faced with pressure, but nowhere to release the pressure, there will always affect people's mood. There are two days away Day, a small holiday coming soon, in a busy footsteps withdraw, taking advantage of leisure holidays, came near the end of the mobile operating inflatables slides scene, thorough resolutely flying mood is a good choice.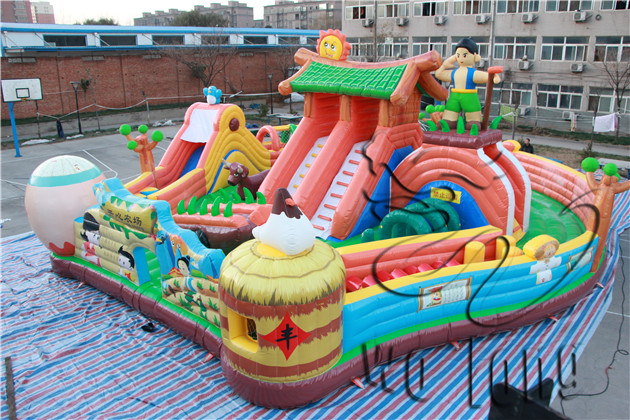 As we all know, we say call inflatable bouncy slide, also known as trampoline, name implies is that you can bounce at the top, but it is inflated due to the body, if normal operations, the manufacturers left the outlet, the air seam, plus fan inflatable bouncer slide just formed a moderate face, if a little soft under inflated might, and if over inflation is reducing its elasticity, easy to hurt children hurting children.
Commercial Inflatable slides are one of the most popular amusement choices because they are loved by children. Bouncing puts you in a state of health and fitness, improves your sense of balance, provides an aerobic effect for your heart, strengthens your muscles, increases the capacity for respiration, results in a better mental performance and can be customized in your favorite shapes and themes! How interesting is it!
Zhengzhou Wolong is engaged in producing the inflatable slide, next, we can talk about the maintenance of inflatable slide, Let everyone to play safely. Let's see together. In use process, to be ensure that the power supply is normal. When using, to be ensure that the ground is flat and level. When cleaning, use a soft towel. When you don't use it for a long time, please keep inflatable slide dry. In the process of using, if exposure to rain, please first open the product. Zhengzhou Wolong is china inflatable slide manufacturer, we can provide you the best product.