News
inflatable slide is a paradise for kids

Source: By:wl-inflatable Posted:09-30-2018 Views:
With the development of our society, our family has less and less children. Most families have only one kid, which made the security of children more and more important. Adults have to give up the idea that let the kid go out and have the strenuous exercise on account of the security fears, which has a bad effect on children's health and growth.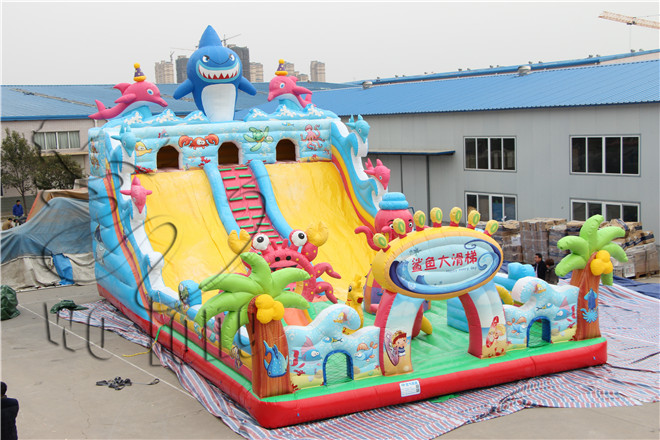 What if you can just let your kids go outside and play so you can go about your work at home and from your home office? It seems to be a good idea, kids never want to go outside when the sun is high. The heat is so painful they can't stand to be a few minutes away from the air conditioner, which confused those parents that busy with daily task. If you want to get rid of the the noise of the children and be quiet to do your work, all you need is offer inflatable slide to them.
Knowing about the importance of inflatable jumping slide and you ought to know its structure. In order to fit the power location. We make the two tubes on different of the slide. They are constructed from the finest coated vinyl. As for durability, the materials are a weft inserted substrate, which makes any possible rips virtually impossible. We do cushion between the wall and the base. When the kids bounce on the slide this parts bear most of the pressure, so this new design will make this parts much more strong and safety.
Slide units are verywell-liked pieces for kid's birthday parties, company picnics, in addition to a lot of other special events. Children completely love jumping and bouncing in their own slide for their social gathering. When you are looking for the inflatable slides rentals, be certain toyou go with a trustworthy company. A trustworthy company pays sales tax, has insurance, and follows up with its clients in an appropriate manner. In attendance are a lot of companies who rent slide which are not reputable, do not have insurance, don't pay sales tax, as well as do not even write down their clients orders.